Amid uncertain job market and poor financial prospects, consumer and business landscape in the Middle East is rapidly changing, says new McKinsey & Company report. According to the research, consumers have greatly reduced their spending and are seeking more convenience. This implies that they want less for more.
The study entitled, "Navigating a Perfect Storm in the Middle East's Consumer Sector" was compiled after surveying the opinions of 2,000 customers in one of the two largest economies in the region: United Arab Emirates and Saudi Arabia in 2018.
The following are the 5 major shifts in the Middle East's consumer sector that report has highlighted.
Steadily Increasing Price Sensitivity
The unemployment fear spikes as 80% of the participants from the United Arab Emirates and 72% in the Kingdom of Saudi Arabia worried about possible job loss. In both states, over 40% of respondents confessed that they are cutting back on spending and taking prices into account.
The Decline in Brand Loyalty
The brand loyalty in the region is certainly eroding as no less than 15% of the survey participants in the KSA and UAE are opting for less expensive options than their favorite brands. This portrays that today's consumers in the region are less brand loyal as the trade-down was around 10% three years back. Most down-traders are switching to low-priced branded goods. And more than 50% of the down-traders have no intention to trade back up even if their financial situation improves.
E-commerce is on the Rise

While consumers in the Middle East are reducing their spending, their expectations from CPG manufacturers and retailers have increased manifold. For example, consumers expect to purchase products quickly and easily. Convenience and speed are the key reasons e-commerce is gaining traction in the Middle East. The survey respondents in the UAE presumed that their online spending has improved by 31% in the past year, and 62% of the participants mentioned ease as the primary reason to switch to online platforms.
Staying Healthy & Fit is More Important than Ever
Surprisingly, health and fitness are of the one those areas that have become increasingly important when it comes to purchasing. For instance, over 50% of UAE consumers stated that having "all-natural ingredients" is "always" or "usually" a crucial thing to consider when purchasing packaged foods. For more than 40% of consumers, important considerations include "low fat", "low sugar", and "made with real sugar, not substitutes".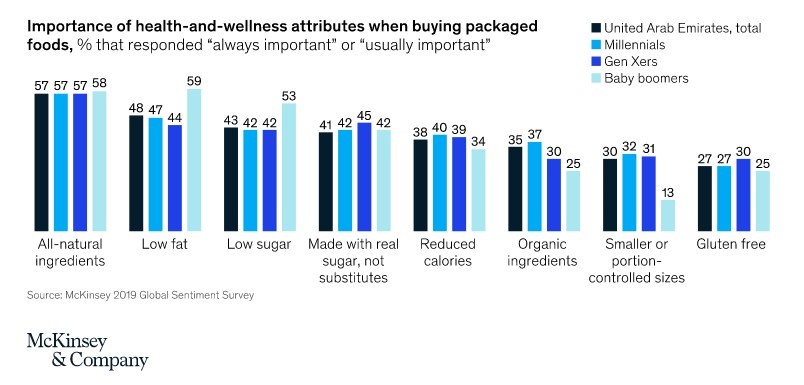 Local Food Items are Winning Hearts & Minds
Another prominent shift is the increasing demand for locally sourced food items. To back local businesses, consumers are buying their products, especially the younger lot. In fact, research conducted by McKinsey revealed that millennials are four times more likely to have negative sentiments about the large food corporations. This bounds modern-day retailers not only to offer products but also provide a platform to local brands so they can gain exposure and boost their sales. In GCC countries, the trend is pretty evident because several local brands in food, cosmetic and apparel witnessed an exceptional growth in the recent past.
Take Away
Considering these facts, both retailers and manufacturers have to implement new strategies that should be based on these building blocks:
New and Unique Value Proposition
Relentlessly Drive to Increase Productivity
As for the price-conscious and demanding customers, businesses need to revisit and tailor their marketing tactics and also work towards building strong online presence. At the same time, businesses have to revisit their price structure and uncover new means to keep their prices low. They should also focus on extracting sufficient proceeds from the business without compromising on the price and customer experience to start a new venture.
To ensure adherence to the new norms, it is vital that companies should stay abreast of ever evolving consumer trends and demands as well as allocating some funds to help build new proficiencies in M&A, digital, and analytics.
The McKinsey and Company report suggests that by developing advanced capabilities in M&A, digital and analytics will help businesses build a solid online strategy and offer a better value proposition. To tell the truth, several retailers are already are making the most analytical and digital skills with businesses witnessing a 2-10% increase in sales.