The uncertainty over COVID-19 continues to grow as a vast majority of consumers are now avoiding to visit crowded locations. Indeed, the situation greatly varies between different areas, but there are opportunities for retailers to learn from others in states that are ahead in responding to the deadly virus. And here is what recent analysis tells us.
How Shoppers are Behaving during the Pandemic?
According to recent survey conduct by Coresight Research, approximately half (47.2%) of the internet users affirmed that currently, they are refraining from shopping centers and malls. And if the outbreak gets worse, nearly three-quarters (74.6%) avowed they will evade shopping centers altogether.
Things aren't too different in retail stores. About 32.7% of the participants said they aren't visiting brick and mortar stores due to coronavirus outbreak. It seems that older shoppers are more likely to take these preventive measures as nine out of 10, who were above 45, said they would if the pandemic worsens. That said, a notable number of young buyers are also evading physical stores.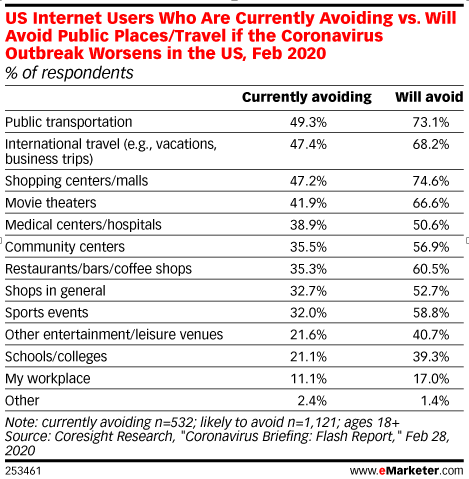 Given the current circumstances, it's understandable that vulnerable individuals are abstaining from visiting physical environments where they are more exposed to this threat. But this won't help when it comes to meeting their household requirements. In fact, the requirements may increase as many are keen to stockpile resources.
Have Buyers changed their Purchase Behavior during the Outbreak?
On the whole, the sales of consumer packaged goods have soared. But surprisingly, more and more buyers are stocking oat milk instead of water. Yup, that's right! According to Nielsen's report, oat milk sales have jumped up to 305.5% during the past month. On the other hand, water sales surged by just 5.1% that is below the sales of pretzels, dried beans, and energy drinks.
But it comes as no surprise that Nielson has also witnessed a drastic increase in the sales of health-related CPG items. For instance, the sales of medical masks went up by 78% during the last week of March 2020 in comparison to the same period during the past year. And by the end of February 2020, the sales skyrocketed by 319%.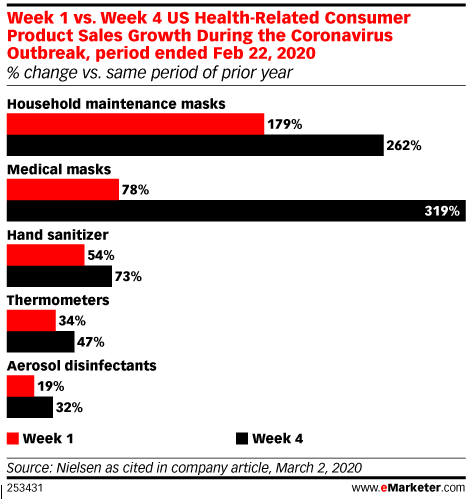 The data from eMeals, a meal planning service, showed that during the first week of March 2020, a significant increase in sales of specific products was recorded, which includes disinfecting wipes (increased by 353%), chicken noodle soup (surged by 37%), and ibuprofen (went up by 236%). Bloomreach, a software firm, reaffirmed these findings after analyzing online sales revenue data between February 23rd to 29th.
All is Not Lost
While the stats above are depicting a horrible picture, all is not lost. Sure, there are no easy answers, owing to the vacillation of disease dynamics, but merchants are taking actions to improve in-store traffic. For instance, leading brands like Equinox and Drybar are sending out emails to inform customers how they are addressing the growing concerns by taking necessary measures, so their patrons and staff members can remain safe and healthy.
One of the new businesses to join this race is Nordstrom. The prominent retail chain has lately sent a note pointing out how crucial it is to establish a direct connection with customers to tell them about the steps they are taking across their businesses and stores to keep them healthy.